Simple Solution for Complex Connections
PLC | HMI | BMS | Netwwork devices | SCADA and DCS Systems | Flow and Density Meters
PROGRAMMABLE LOGIC CONTROLLER
TOSHIBA V200
Toshiba's V200 series products are micro programmable logic controllers with optional expansion I/O. Impressive communications capabilities, an advanced instruction set, and a large memory (program and data register) make the V200 an ideal fit for applications that previously required larger, more expensive programmable controllers. In addition, the V200's high-speed performance makes them especially suited for sophisticated machine-control and complicated process control applications.
Key Features:
Networking: Modbus Master/Slave, Modbus TCP/IP Client/Server, Toshiba Inverter/ASD, and Others

Advanced Math: Double Register, Floating Point, Log, and AntiLog

Integrated Setup Software: Same Software Programs all the OIS PLUS (Operator Interface Stations) as well as V200 Series PLCs

Wide Variety of I/O Modules: HS Inputs, PWM Outputs, Thermocouple, and RTD

Computer Control Instructions: I/O Interrupts, For-Next Loops, Subroutines, Indirect, and Addressing

Communications Modules: SMS Module Coming Soon

IEC 61131 Programming Option: Coming Soon
TOSHIBA S2E/S2T



Toshiba's S2E/S2T PLC controllers are small, modular type programmable controllers suitable for simple relay replacement all the way to complex control applications.
Toshiba S2E/S2T are 3rd generation T2 Series CPUs used with V-Series racks, I/O, and standard AC/DC sower supplies.

The S2E/S2T provides a functional, economical, and compact solution to a wide range of applications in automotive, machine control, and process control systems. The S2E/S2T controllers excel at applications where high speed processing is required.

The programming tool for the S2E/S2T is the T-PDS MS Windows based programming software. Any T-Series program can be loaded and run without any program conversion. Any HMI, OIS, or Scada software used with the T-Series is also compatible.
TOSHIBA T1-16S
​
T1-16S is a micro programmable controller with optional add-on expansion I/O modules. Its communications capability, advanced instruction set, and large memory (program & data register) make it ideally suited for applications previously requiring larger more expensive programmable controllers. The T1-16S's high-speed performance makes it especially adapt at sophisticated machine control applications.
Key Features:
Compact Modular Style

8K Steps Program Memory

Clock/calendar Function

Online Program Changes

Built-in EEPROM

Pulse Output Function

High-Speed Processing

RS485 Communication Port

High-speed Counter Function
HIQUEL SLS86/SLS500



Get to know HIQUEL as a qualified, reliable and flexible company!

Since foundation in 1992 based in Austria, HIQUEL has specialized in the development and production of products for industrial automation, owns engineering division for project realization in the fields of industrial automation and building management systems.

HIQUEL stands for High Quality Electronics provide individual tailor-made products or complete solutions.

Basically, there are two different PLC-series in HIQUEL product range, the SLS-86 and the SLS-500. Both are modular concept and can be used as central and/or distributed PLC systems. Due to the fact that a base module can be combined with a broad range of expansion modules, both PLC series are very flexible and can therefore fit Individual demands, the modules could be digital, analog, pt100/pt1000, thermocouple or encoder detector "High speed counter ".

The SLS-86 and the SLS-500 are programmed without special software Knowledge. Easy online visualization and simulation of functions are integrated in the Software. The SLS500 can be connected to an internal RS485 network in an easy and effective cost.
HMI | BMS | Network Devices
HIQUEL Text Screens
Key Features:
LC backlit display

4 lines with 20 characters each line

character size 3x5mm

9 control keys with symbols

integrated RS232 interface

error tolerant protocol for

data transmission

front panel mounting 195x110mm

24mm deep
Hakko Touch Screens
>> MONITOUCH
High-resolution display of 65,536 colors without blinks and 32,768 colors with blinks enables clear display of JPG and BMP images. Realistic appearance of photos, illustrations and 3D parts improves visibility and makes it easy for operators to quickly grasp the conditions.

High-speed displaying of 30 frames per second is possible. Even displays for production of a short tact time can be made without any delay.

Connectable with up to eight different kinds of automation devices and different manufacturers' PLCs

User-friendly component parts and functional switches enable simple and speedy display configuration.
Smart Home





Why do we need a Building Management System?



HIQUEL offers both, technical and commercial advice for the modern building automation solution, the BMS is a computer-based control system installed in buildings that controls and monitors the building's mechanical and electrical equipments such as heating, ventilation, air conditioning, lighting, power systems, fire systems, and security systems with access control and video surveillance. Such buildings are factories, compounds, schools or individual buildings as it saves energy and costs.
HIQUEL offers a wide variety of components used to set up a complete and integral management system whether on a small scale (Home Automation) or on a large scale (BMS).
Converters & Switches
1-port RS-232 and RS-422/485 USB-to-Serial Converters

2-port RS-232/RS-422/485 USB-to-Serial Converters

Isolated Industrial RS-232 to RS-422/485 Converters

Industrial RS-422/485 Converters/Repeaters

16-,8-, or 5-port unmanaged Ethernet Switch

Surge Guard
TOSHIBA Text Screens
Key Features:
Use for programming, connection to PLC, or connection to higher level controller. Communicate across the plant or across the country.

Multi Language Capability.

Display text information in any Microsoft supported language. Export text file to co-worker in another country so that he can add his language. Then import text into OISeup32 software.

Pop Up Screens & Keypads.

Conserve screen space on touchscreens by popping up a keypad for data entry. Press a flashing alarm button to display a detailed alarm screen.

Alarm and Event Monitoring

Monitor status of alarms and specific events on one screen.
TOSHIBA Touch Screens
OIS120 Touch Panels are used as Operator Interface Stations (OIS) for Toshiba PLCs, Adjustable Speed Drives, and V Series Integrated Controllers. Operators know immediately the status of the connected equipment and they can easily get more detailed information, change operating parameters in the connect equipment or control operation.



Key Features
Popup Keypads. Save screen space and can be triggered by pressing any data entry object. They disappear as soon as enter is pressed.

Multiple Language Capability. Create tags and descriptions in any language supported by MS Windows. A utility program allows exporting a tag data base in one language, adding corresponding terms in another language, then importing the new language into the OIS.

Support for Floating Point Data. Double length register tags which support IEEE 32 bit format for floating point data can be mapped to any object, such as a bar graph. Allows OIS to easily work with PID Loop controllers such Toshiba V1000.

Portrait or Landscape Orientation. Maximize space by creating screens in either portrait or landscape mode. The mount OIS in any position.

Ethernet Port on OIS120. It can be used to connect to a PLC and monitor machine / process status from a remote location. The Ethernet port can also be used for remote programming of the OIS120.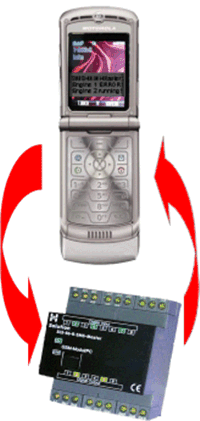 SMS Control





Monitor and check your facility via SMS



The SMS-master controller offers a low cost solution for monitoring and controlling systems via SMS. It's a flexible alarming and messaging system that receives and sends messages to mobile phones, it automatically generates reports of machine operating states, such as breakdowns. Incoming text messages can control functions and interrogate I/O status using digital, analogue or time events.
MODBUS Converters
MBUS-MODBUS-protocol-converter

allows you to read of MBUS-counter via Modbus-RTU

Up to 8 counter per converter readable

Readout interval adjustable

Readout of the c

ounter values via Modbus register

with RS232 or RS485 interface

easy programming via Windows-Utility

It is also possible to upgrade the counter definitions by your own
Indusoft SCADA
Indusoft SCADA Web Studio is the ideal Rapid Application Configuration Environment (RACE) solution for your industry. It Offers solutions to configure, manage and monitor the flow of valuable information among the plant-floor, the users (local or remote visualization) and the enterprise. You can choose between more than 200 communication drivers available for different devices (e.g. PLCs).
Using IWS SCADA web studio, you can publish real-time dynamic and animated graphic screens, trends, alarms, reports, and recipes to local PCs or standard Web browsers.
Simplified development can be made using full-featured screen objects and dynamics with extensive symbol library and an advanced math library with more than 100 standard functions, with customizable object properties such as: bar graphs, color, resizing, blinking, animation, scale, fill, positioning, rotation, commands, hyperlinks, combo-boxes, and text input/output. A sophisticated alarm system can also be developed to send alarms to screens, email, browsers or to the printer and allow users to write comments after acknowledgment of alarms.
TOSHIBA DCS



TOSHIBA Distributed Control System (DCS) aims to control a manufacturing system, process or any kind of dynamic system, in which the controller elements are not central in location (like the brain) but are distributed throughout the system. The entire system of controllers is connected by networks for communication and monitoring. What distinguish TOSHIBA DCS system from others are its high speed processing, Multi-control loops, reliability, redundant server, high I/O capacity and many extra features. TOSHIBA DCS is established using the V-series or the brand new NV-series PLCs along with OIS-DS software. This software works under Windows XP as it is powerful yet also familiar and easy to use.

TOSHIBA OIS-DS Software



Extensive monitoring and operation functions ensure an advanced operation environment. Monitoring screens have a hierarchical (or top down) design where the user starts from higher level screens and moves to the screens lower in the hierarchy in order to find the information to be monitored. Related data, alarms and trends can be quickly displayed. Multiple monitoring screens are linked for display purposes, so that information can be monitored and analyzed from several perspectives.
TOSHIBA Electromagnet Flow Meters



Electromagnetic Flow Meters are instruments for measuring the flow of conductive fluids, using Faraday's principle of electromagnetic induction. Toshiba has been marketing electromagnetic flow meters since the late 1960's.

TOSHIBA has different types of flow meters depending on the mounting type, lining material, electrode material, detector material body and range of sizes (25 mm up to 3000 mm). This wide range of types makes possible fluid measurements in almost any imaginable application. Each flow meter consists of two parts; a detector which measures the flow rate of the liquid and a converter which processes the detector's signal and converts it to a reading on the LCD display.
ain) but are distributed throughout the system. The entire system of controllers is connected by networks for communication and monitoring. What distinguish TOSHIBA DCS system from others are its high speed processing, Multi-control loops, reliability, redundant server, high I/O capacity and many extra features. TOSHIBA DCS is established using the V-series or the brand new NV-series PLCs along with OIS-DS software. This software works under Windows XP as it is powerful yet also familiar and easy to use.
TOSHIBA Ultrasonic Flow Meters
Automatic Logging: Totaling over 64,000 event data (more than 1 month with 1 minute intervals)

Multiple Outputs: Analog output, totalizing output, digital port for configuration, and RS-485 MODBUS (optional)

Extra A-IN (optional): 1 port for passive analog input is available to log input data automatically

Graphical Setup "EZ-Wizard" on PC: Parameter forms guides in slideshow sequence

EZ-Translation: Configurable in any language locally on PC

Status Signs: LCD indicates status and operating conditions without PC

Echo-wave Monitoring on PC: Helps to identify ideal mounting positions of transduce
TOSHIBA Density Meters



Microwave Density Analyzers
Density (Consistency) Meters, also known as Microwave Analyzers, use a new measurement technique which is based on the way solids affect the propagation of microwaves compared to all other ingredients in the pipe, and thus, the unit is solely specific to the percent solids in the pipe.

Primary use for the density meters is to increase plant efficiency, improve product quality and reduce labor and laboratory cost. It is also used for replacing high maintenance or poor performing meters such as optical, ultrasonic, nuclear, blades, carioles, etc.

Both TOSHIBA electromagnetic flow and density meters have HART (Highway Addressable Remote Transducer) protocol which is a communication protocol for industrial sensors recommended by HCF (HART Communication Foundation). Also both of them are ISO9001 and ISO14001 certified with FCC, CU and UL approvals.